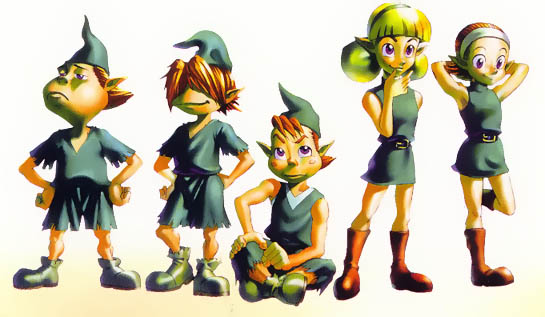 Created by the Great Deku Tree,
Kokiri
are a human-like fairy race who inhabit the Kokiri Forrst. They are a secretive, vigilant race that greatly resemble Hylian children, save that Kokiri never grow old. Every Kokiri has their own Guardian Fairy, and as such these fairies will act as a parent, a guardian, a teacher, and a friend. Indications that you are dealing with a Kokiri fairy and not a Hylian child are their pointy ears and green tunics. All Kokiri wear green tunics; men wearing green hats and women wearing green headbands.
Racial Abilities:Farming:
A natural ability at farming and caring for plant life.
Climb:
Gives the bearer a boost of speed while climbing trees, or taking shelter.
Racial Magic:
Each of these magic's are provided upon character creation.
Farore's Life:
Gives the bearer a temporary ability to help all plants within a five yard range to grow. Non-aggressive. - Cool down 10 minutes.
Magic Bag:
When in need, turn to your magic bag for aid.
Languages:
Hylian
Kokiri